Telos Systems Launches Z/IPStream Software Promo Pricing & Adds xHE-AAC Codec
CLEVELAND, OH – 21 July 2016
The Telos Alliance®—leaders in broadcast radio technology and parent company to Telos®, Omnia®, Axia®, 25-Seven®, Linear Acoustic®, and Minnetonka™—announced today that it has added the latest Fraunhofer xHE-AAC (Extended High-Efficiency AAC) codec to its Z/IPStream X/2 and 9X/2 software, with special promotional pricing for both versions.
The Z/IPStream X/2 software promotional price is $650 (a $345 savings off the normal $995 list price); the 9X/2 software promotional price is $1,495 (a $500 savings off the normal $1,995 list price), and the X/2 to 9X/2 upgrade promotional price is $995 (a $255 savings off the normal $1,250 list price). Additionally, as part of the Telos Alliance's Customer Loyalty program, Z/IPStream A/XE customers can now upgrade to X/2 for only $255.
"Our Z/IPStream streaming hardware and software offerings are some of our most popular products. The response has been so great, we wanted to make it even easier for more broadcasters to move into streaming with this special new pricing," says Ioan Rus, Director of Streaming for the Telos Alliance. "We are also excited to say that now all our second-generation streaming products include the latest xHE-AAC codec. Telos Alliance has always used authentic Fraunhofer codecs in our devices and software, as we believe their algorithms offer better performance than copycats."
The xHE-AAC codec is designed for high-performance low-bitrate streaming and includes integrated speech-coding tools and more efficient audio-signal coding in general. The result is low-bitrate audio streams that sound equally good on both Talk and Music content.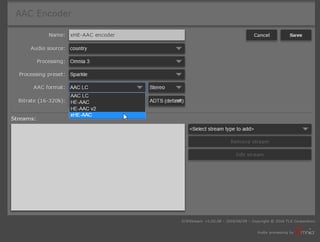 Being able to stream at a lower bitrate and get the same audio quality can save broadcasters money by lowering bandwidth requirements and therefore reducing CDN costs for program providers. Starting as low as 6 Kbit/s per channel, xHE-AAC allows the transmission of higher audio quality and potentially more audio programs. xHE-AAC therefore enables new services even on bitrate-constrained networks. Because the coding efficiency of xHE-AAC enables streaming services to operate at lower data rates when needed, the mobile listening experience is improved by reducing buffering times, increasing service reliability, preventing data-plan overages, and giving the user more streaming time before they reach their data plan limit. Z/IPStream X/2 and 9X/2 are compatible with most popular CDNs.
Users simply need to go to the X/2 or 9X/2 product pages on the Telos Alliance website and download version 1.10.05 to update their software. These two Z/IPStream streaming software platforms join the Z/IPStream R/2 streaming appliance, which was the first Telos product to feature xHE-AAC.


Press contact: Krissy.Rushing@TelosAlliance.com.
Follow us on Facebook, Twitter, or visit TelosAlliance.com.
---
About The Telos Alliance®
For three decades, the brands of the Telos Alliance have revolutionized radio and television by pioneering disruptive, cutting-edge audio technology with the goal of helping global networks and local stations produce better programming, improve audience engagement, and bolster ratings. The Telos Alliance is made up of six brands—Telos® Systems, Omnia® Audio, Axia® Audio, Linear Acoustic®, 25-Seven® Systems, and Minnetonka™ Audio—that raise the bar for quality and innovation in the radio and television industries. The Telos Alliance invented Audio over IP for broadcast and contributed time and resources to the effort that led to the AES67 standard. Headquartered in Cleveland, Ohio, USA, with additional offices and dealers around the world, the Telos Alliance offers an industry-leading five-year warranty, and backs users' critical on-air needs with worldwide 24/7 round-the-clock support for all customers. A complete list of dealers can be found at www.telosalliance.com/Dealers.