CLEVELAND, OH & LAS VEGAS, NV, USA – 18 APRIL, 2016 (NAB BOOTH #N1934)
The Telos Alliance®—parent company of Axia® Audio—announced today that its Axia DESQ, RAQ, iQ, and Radius mixing consoles are now AES67-compliant. These consoles, along with Axia's top-of-the-line Fusion and Element consoles—will be on display at NAB 2016 at the Las Vegas Convention Center in the Telos Alliance Booth #N1934, April 18-21, 2016.
"From Axia's earliest days, way before there was a standard, it was our vision that all Audio over IP (AoIP) broadcast gear would be interoperable, because it has always been about giving broadcasters equipment choices," says Marty Sacks, VP of Sales, Support, & Marketing at the Telos Alliance. "We're excited to announce that our DESQ, RAQ, iQ, and Radius consoles are now fully AES67-compliant, driving the standard forward."
With full AES67 compliance, DESQ, RAQ, iQ, and Radius consoles are not only interoperable with other Axia Livewire+™ equipment, but with any AES67-compliant equipment. Owners of these models can update their consoles to AES67 simply by downloading the latest software update for the QOR engine that powers their console. All new QOR engines will ship standard with AES67 compliance.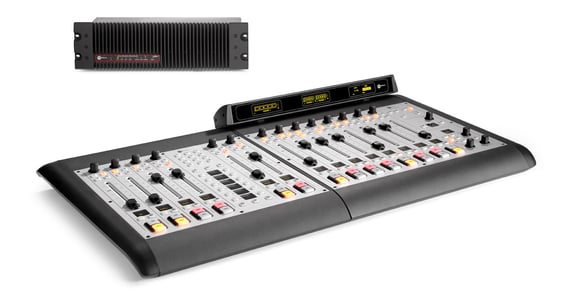 In addition to AES67 compliance, the DESQ, RAQ, iQ, and Radius consoles also feature the same aerospace-quality switches, premium faders, super-sharp OLED channel displays, and textured machined metal work surfaces with double-anodized markings as found on the Axia Fusion and Element consoles. They also come with Telos Alliance's 24/7 support and industry-leading five-year warranty.
Press contact: Krissy.Rushing@TelosAlliance.com.
For high-resolution images, visit the Telos Photobucket page.
Follow us on Facebook, Twitter, or visit TelosAlliance.com.
---
About The Telos Alliance
For three decades, the brands of the Telos Alliance have revolutionized radio and television by pioneering disruptive, cutting-edge audio technology with the goal of helping global networks and local stations produce better programming, improve audience engagement, and bolster ratings. The Telos Alliance is made up of six brands—Telos Systems, Omnia® Audio, Axia® Audio, Linear Acoustic®, 25-Seven®, and Minnetonka™ Audio. Distinctly and collectively, the Telos Alliance brands raise the bar for quality and innovation in the radio and television industries. Together, this group represents some of the brightest minds in radio and television broadcast audio, with dozens of awards and a growing patent and IP portfolio to back up the claim.