CLEVELAND, OH – 17 MAY, 2016
The Telos Alliance®—parent company of Axia® Audio, the inventors of AoIP for Broadcast—announced today its new xNode 'Matrix Mixer' feature, available via the latest Axia xNode software update, version 2.0. This new feature transforms any Axia AES/EBU, Analog, Mixed-Signal, or Microphone xNode into a Matrix Mixer, opening up a variety of new applications.
The Matrix Mixer allows broadcast engineers to combine numerous inputs into one output. In one use case, the output of the Matrix Mixer could send on-air program content from multiple channels of an automation system directly to the transmission chain, bypassing a studio mixing desk to allow better studio utilization during certain dayparts.
"The Matrix Mixer feature is something that our customers have told us will make Axia AoIP systems even more flexible than they are now," says Marty Sacks, VP of Sales, Support, & Marketing at the Telos Alliance. "By combining physical inputs such as microphone, analog, or AES inputs, with digital network inputs like network streams, you can mix as much as you wish and send it all to a single output in a 1RU device—and all fully AES67 compliant."
This tool gives broadcast engineers the capability to create the mix they need by integrating both physical inputs and digital network inputs into the Matrix Mixer, making the xNode now more than just an AoIP I/O box, but a gateway device that allows for mixing or converting inputs to outputs. For example, three Axia Livewire® streams can be converted into a different one, like an AES67 stream. Or if you have four AES3 physical inputs converted into four AoIP streams, you can then make a sum of those four into a fifth AoIP stream.
"We have expanded the meaning of 'inputs' and 'outputs'—beyond the traditional sense," says Matrix Mixer Project Manager, Milos Nemcik. "The Matrix Mixer is so flexible that it's difficult to list all the different possibilities. I think broadcasters will invent utility out of this tool."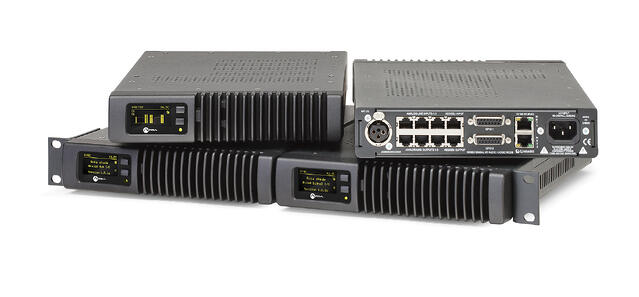 Like all Axia software updates, the V2.0 software update is completely free and accessible via the Matrix Mixer software downloads page on the Telos Alliance website. Axia users also have access to the Telos Alliance's industry-leading 24/7 support. For more information, read our blog Q&A with Matrix Mixer Project Manager Milos Nemcik.
Press contact: Krissy.Rushing@TelosAlliance.com.
For high-resolution images, visit the Telos Photobucket page.
Follow us on Facebook, Twitter, or visit TelosAlliance.com.
---
About The Telos Alliance
For three decades, the brands of the Telos Alliance have revolutionized radio and television by pioneering disruptive, cutting-edge audio technology with the goal of helping global networks and local stations produce better programming, improve audience engagement, and bolster ratings. The Telos Alliance is made up of six brands—Telos Systems, Omnia®Audio, Axia® Audio, Linear Acoustic®, 25-Seven®, and Minnetonka™ Audio. Distinctly and collectively, the Telos Alliance brands raise the bar for quality and innovation in the radio and television industries. Together, this group represents some of the brightest minds in radio and television broadcast audio, with dozens of awards and a growing patent and IP portfolio to back up the claim.