CLEVELAND, OH – 19 September 2017
The Telos Alliance®—innovator in broadcast radio and TV technology and parent company to Telos®, Omnia®, Axia®, 25-Seven®, Linear Acoustic®, and Minnetonka™—announced today that it received two NewBay Best of Show Awards at IBC 2017, September 15–19 in Amsterdam. The Axia IP-Tablet Virtual Radio Software received a Best of Show Award from Radio World International magazine, while the new Telos Infinity IP Intercom won the Best of Show Award from TVB Europe magazine.
"We are especially honored to receive these distinguished awards from NewBay, both of which emphasize the IP-based future of broadcasting," says Frank Foti, CEO of the Telos Alliance. "At Telos Alliance we push hard to give our broadcasting family innovative, high-performance solutions in any format they need. It's gratifying to see that work rewarded."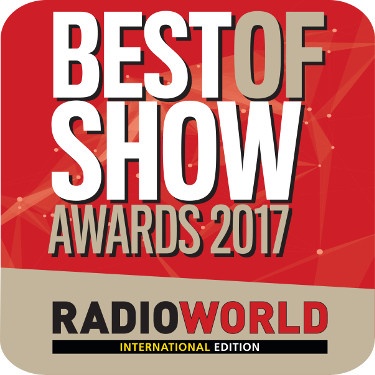 Axia IP-Tablet Virtual Radio Software Wins NewBay Best of Show Award from Radio World International Magazine
The Axia IP-Tablet virtual radio software virtualizes monitoring and control of broadcast gear, putting the broadcaster's favorite functions on an app and lessening the need for physical equipment. IP-Tablet controls networked HTML5-enabled equipment, the Axia Fusion console, and other Telos Alliance gear, including xNodes, Omnia.9 and Omnia.7 processors, the Omnia VOCO 8 mic processor, Telos VX and VX Prime phone systems, Telos Z/IP ONE IP Codec, and Axia Pathfinder Routing Control. There's also a Metadata Tools license that pulls metadata from the automation system to display on the tablet screen. Choose from one of the predesigned templates, or design a layout specific to your needs through the simple drag-and-drop design interface. Broadcasters can mount the IP-Tablet-enabled device either in the console itself with the IP-Tablet Fusion Mount (which occupies four fader positions) or use the tablet externally. Designed by Livewire® partner IP-Studio, IP-Tablet is testament to the power and innovation of the Livewire network, with more than 70,000 connected devices and 100-plus partners.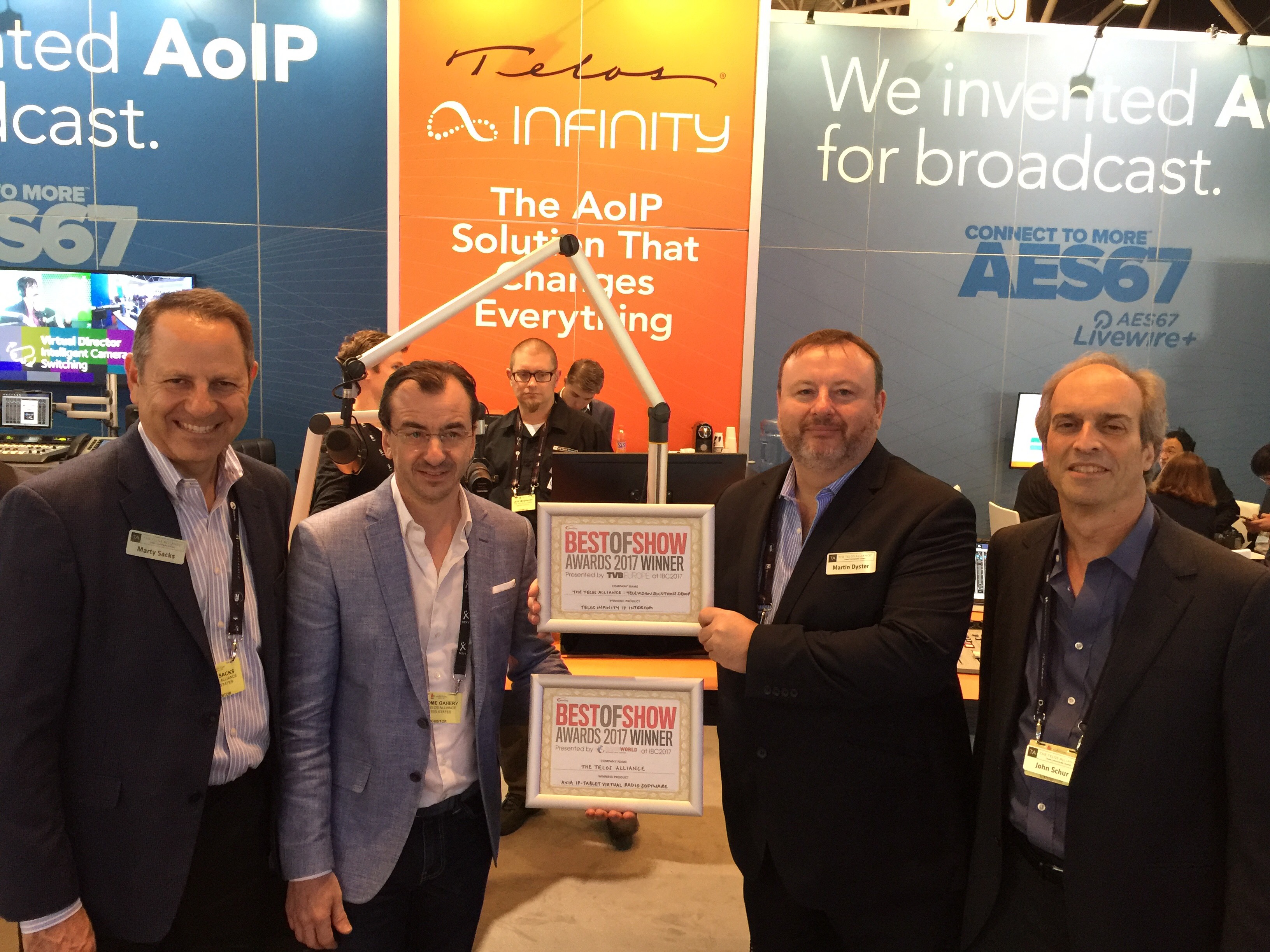 From left to right: Marty Sacks, Telos Alliance VP of Sales, Support, & Marketing; Jerome Gahery from IP-Studio; Martin Dyster, Telos Alliance VP of Business Development - TV; and John Schur, President of Telos Alliance's TV Solutions Group
Telos Infinity IP Intercom Wins NewBay Best of Show Award from TVB Europe Magazine
Telos Alliance disrupted a critical segment of the broadcast communication industry at IBC 2017 with the introduction of the new Telos Infinity™ IP Intercom, the AoIP Solution that Changes Everything for broadcast communications. A quantum leap in scalability, ease of integration, efficiency and total cost of ownership, Telos Infinity IP Intercom is the first in a new series of Telos Infinity solutions and represents a complete reimagining of broadcast communications.
More than just a talkback system, Telos Infinity IP Intercom merges voice communication and contribution audio on a single IT backbone employing the latest standards-based VoIP and Livewire+ AES67 AoIP transport to provide dedicated features and functionality without compromise or limitations.
It replaces outmoded matrix technology with an advanced, distributed IP network solution that provides superior functionality in a simplified, more elegant form. Being matrix-free allows plug-and-play networked hardware and software devices to be added to the system as part of a planned ad-hoc change without ever worrying that you might exceed the number of available ports on a matrix.
Telos Infinity IP Intercom easily integrates into existing analog, AES, SDI, and MADI systems using Telos Alliance xNode baseband-to-IP interfaces and other AES67 partner devices providing a means by which customers wishing to retain their existing audio infrastructure can easily realize the many benefits of the system.
The Telos Infinity IP Intercom system includes rack-mounted Intercom Master Panels, rack-mounted Master Expansion Panels, Master Desktop Stations, wired Dual Channel Partyline Beltpacks, and Dashboard Software in Basic and Premium versions.
NewBay's Best of Show Awards are evaluated by a panel of engineers and industry experts, and are selected based on innovation, feature set, cost efficiency, and performance in serving the industry.
---
About The Telos Alliance®
For three decades, the brands of the Telos Alliance have revolutionized radio and television by pioneering disruptive, cutting-edge audio technology with the goal of helping global networks and local stations produce better programming, improve audience engagement, and bolster ratings. The Telos Alliance is made up of six brands—Telos® Systems, Omnia® Audio, Axia® Audio, Linear Acoustic®, 25-Seven® Systems, and Minnetonka™ Audio—that raise the bar for quality and innovation in the radio and television industries. The Telos Alliance invented Audio over IP for broadcast and contributed time and resources to the effort that led to the AES67 standard. Headquartered in Cleveland, Ohio, USA, with additional offices and dealers around the world, the Telos Alliance offers an industry-leading warranty and backs users' critical on-air needs with worldwide 24/7 round-the-clock support for all customers. A complete list of dealers can be found at TelosAlliance.com/Dealers.