New marketing manager appointed from AV industry
12 January 2016 Cleveland, Ohio, USA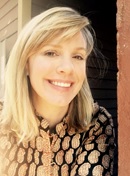 The Telos Alliance announced today that it has appointed Krissy Rushing as the company's new Marketing Manager. Rushing will be responsible for messaging and communications for all the Telos Alliance's radio brands, including Telos Systems, Omnia Audio, Axia Audio, and 25-Seven Systems.
Rushing comes to the broadcast audio world from residential and commercial audio-video, where she has been a writer, editor, content marketer, PR and SEO consultant, and communications specialist for more than 18 years. She has created content and structured storylines for top brands like Monster Products, Stewart Filmscreen, ProSource, KMB Communications, and Harman, and has regularly contributed to high-tech publications like Electronic House, CEPro, Technology Integrator, and DigitalTrends.com. Previously, Krissy served as the executive editor of Home Theater and Stereophile Guide to Home Theater magazines; editor of Audio Video Interiors and Connected magazines; and home entertainment editor of Technology Tell.
"At Telos Alliance, we've always made a big deal out of our communications, with the goal of helping our customers solve problems and create great broadcasts," says Angi Roberson, Director of Marketing for the company. "Krissy's fresh perspective, along with her technical and writing background, will help us continue to do that, while telling more of our unique story."
"Telos is an amazing company with a fascinating history," says Rushing. "The moment I walked into the Cleveland headquarters, I knew that this place was something special. From the larger-than-life personalities that frequent its halls to the company's competitive yet generous spirit to the technological prowess of its products, there is definitely a compelling tale to be told here. I'm beyond thrilled to be the one to help do that."
For more information, email Krissy.Rushing@TelosAlliance.com. Follow us on Facebook, Twitter, or visit TelosAlliance.com.
---
About The Telos Alliance
The Telos Alliance is a global leader in the research, development, and manufacturing of IP?Audio, telephony and high?performance audio processing equipment for broadcasters. Telos, Omnia, 25-Seven, Axia, Minnetonka Audio, and Linear Acoustic are Telos Alliance brands. The Telos Alliance is headquartered in Cleveland, Ohio, USA, with additional US offices, plus sales, research, and manufacturing offices around the world.