MT2000™ Multichannel Bitstream Analyzer, AERO.soft™, SDI xNode™
25 March 2015, Cleveland Ohio, USA
MT2000

Featuring a full suite of test capabilities in a compact form factor, the MT2000™ multichannel bitstream Analyzer allows engineers to analyze and troubleshoot digital audio paths anywhere inside or outside of a facility, no matter where they might be located. A bright OLED display gives status at a glance, while the combination jog wheel and navigation joystick provides complete control. Power is supplied by an internal NiMH battery or an included external DC power supply. Signal I/O includes HD/SD-SDI, AES, MADI, and TOSLINK®. DVB-ASI and HDMI inputs as well as Dolby® decoding are optional. Ethernet and USB connectivity are provided for metadata logging and monitoring. Optional SNMP capabilities allow remote monitoring. The unit includes comprehensive ITU-R BS.1770 loudness metering supporting ATSC A/85 (CALM) and EBU R128. Various PCM waveforms including white noise, pink noise and tone can be generated, as well as a latency test signal, and basic tests for A/V sync. Other unique features include AES passthrough mode, which allows modification of AES status bits. In addition, channel pairs from internal or external signals can be shuffled and re-embedded on the SDI output.
AERO.soft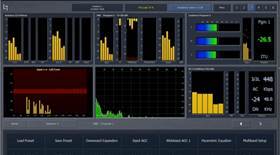 With its scalable server-based approach to processing, AERO.soft™ is ideal for enterprise-wide applications that may require a large number of processing instances without consuming a substantial amount of rack space, or where adding integrated processing to existing equipment cards and frames is not an option. Featuring Linear Acoustic processing engines identical to those in the AERO.100/1000/2000 with optional Dolby® coding, the AERO.soft platform can interface with as many analog, AES, or SDI signals as necessary using xNodes and Livewire Audio over IP technology. All I/O can be distributed and completely separate from the server. This innovative approach to audio processing allows simple and future-resistant upgrades to new standards and technology through software keys rather than replacing entire hardware-based processing chains.
SDI xNode


The SDI xNode adds yet another interface option to the already extensive line of existing xNode Audio over IP hardware. Features include dual HD/SD-SDI inputs and outputs, shuffling and re-embedding of SDI audio channel pairs, dual Ethernet interfaces, a front panel display for basic metering and control, a web GUI for full remote control, and redundant power supply capability. Multiple SDI xNodes (or other xNodes) can be connected to an AERO.soft™ server with an Axia xSwitch, or via an existing Livewire network.
To find out more about The Telos Alliance, visit www.TelosAlliance.com. For further information, contact Shane Toven at Shane.Toven@TelosAlliance.com, or call +1 216-241-7225.
---
About The Telos Alliance
The Telos Alliance (TelosAlliance.com) is a global leader in the research, development, and manufacturing of IP Audio, telephony, and high performance audio processing equipment for broadcasters. Telos, Omnia, 25-Seven, Axia, and Linear Acoustic are Telos Alliance brands. The Telos Alliance is headquartered in Cleveland, Ohio USA, with additional US offices, plus sales, research and manufacturing offices around the world.
---