The Telos Alliance Shows Powerful New Broadcast Radio Solutions at Broadcast Asia 2016
Axia® Livewire+ AES67-compliant consoles, powerful Omnia® audio processing, & Telos Systems® adaptive streaming hardware make their Asian debuts.
CLEVELAND, OH – 31 MAY, 2016
The Telos Alliance®—leaders in broadcast radio and TV technology—announced today that it will be introducing several new products to the international audience at Broadcast Asia 2016, where the company is exhibiting with The GBS Alliance, booth (5C4-01) at Marina Bay Sands, Singapore, May 31-June 3.
"Our Asian partners, including both dealers and customers, are very important to the Telos Alliance," says Marty Sacks, VP of Sales, Support & Marketing at the Telos Alliance. "That's why we created round-the-clock support, making time zones a nonissue when our customers need us. We are thrilled to bring our latest products, some being introduced at BCA for the first time, to this audience."
BCA 2016 Attendees are invited to visit booth 5C4-01, where the Telos Alliance will show its newest products and updates from Axia Audio, Omnia Audio, 25-Seven, and Telos Systems, including:
New AoIP Products from Axia Audio
AoIP is one of the top trending technologies at this year's BCA. Axia Audio, the inventors of AoIP for broadcast and early proponents of the AES67 AoIP standard, will demonstrate its AoIP Livewire consoles and peripherals, as well as Livewire+ (AES67-compliant) updates to several of its flagship consoles. For example, the Axia Fusion Console will be shown for the first time running v3.1 software, which adds Livewire+ (full AES67 compliance). Additionally, the iQ, Radius, DESQ, and RAQ consoles are also now AES67-compliant thanks to the new QOR.16 and QOR.32 engine software update, version 2.1, available now. Axia also just launched its new xNode software, version 2.0, which gives every audio xNode a matrix mixer capable of mixing both physical and network inputs for unlimited mixing flexibility.
New Audio Processing Products from Omnia Audio
Sneak Peek! Omnia.11 Platform
BCA 2016 attendees are invited to get a sneak peek of the new Omnia.11 platform—shown for the first time at NAB 2016—which includes a major complimentary update and optional upgrades to make existing Omnia.11 units even more powerful and feature-rich, with sound that is louder, cleaner, and clearer than ever before. This new platform represents more than a year's worth of R&D to bring customers improvements they might not have known were even possible, yet are so dramatic, it's like getting a new processor without the expense of an entirely new box. The new platform includes three parts:
Omnia.11 Version 3.0 (Free): As always, all Omnia updates are complimentary. Omnia.11 v3.0—coming soon—offers dozens of improvements to the current Omnia.11, like the added flexibility of analog, AES/EBU or Livewire patch points; upper subharmonic control of Solar Plexus over tonal balance; compatibility with the Day-Sequerra Time Lock system; and other exciting developments.
Optional Omnia.11 G-Force™ Dynamics Engine ($985): Instead of paying thousands for a new audio processor like other manufacturers require, the Omnia.11 G-Force software upgrade gives customers a powerful new Omnia.11 dynamics engine for less than a grand. G-Force further reduces dynamic intermodulation (IMD) and employs a brand-new dynamic equalizer, enabling the processor to set the overall EQ for additional signature consistency. These improvements to Omnia.11's dynamics section allow the processor to generate audio that sounds cleaner, more open, and louder.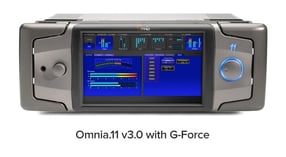 The Perfect Declipper Option ($495): Taking audio to another level of power and clarity is the cutting-edge companion to G-Force, known as 'The Perfect Declipper'. The Perfect Declipper was engineered by audio-processing legend Hans van Zutphen using a revolutionary new algorithm to restore clipped areas in audio recordings. This algorithm not only restores dynamics, but it also removes distortion. This new version of the Perfect Declipper is specially engineered to work in the Omnia.11 v3.0 software environment, in concert with Omnia.11's new G-Force dynamics engine.
New Streaming Products from Telos Systems
Telos Systems is on the forefront of adaptive streaming encoding and processing, with both hardware and software solutions for every broadcaster's streaming needs. At BCA 2016, Telos will reinforce that leadership position with live demonstrations of its Z/IP One IP broadcast codec, along with its latest hardware iteration, the Z/IPStream R/2 stream encoder and processor appliance (shown below), which is shipping now.
Telos Alliance's own Kirk Harnack will also be giving an educational session, "Adaptive Multi-Rate Streaming Audio: High/Medium/Low Bitrate Conundrum Solved," Tuesday, May 31, 2016, at 4:30. Through this session, broadcasters will get a better understanding of the practical applications and software to ensure the best quality of experience for the end user.

Download Hi-Res / Download Lo-Res
International Round-the-Clock Support
Headquartered in Cleveland, Ohio, USA, with additional offices and dealers around the world, the Telos Alliance offers an industry-leading five-year warranty, and backs users' critical on-air needs with worldwide 24/7 round-the-clock support for all customers. Where some competitors take two or three days to get back to a customer query, Telos Alliance global customers never have to worry about delays or time-zone changes. They get the help they need immediately. A complete list of dealers can be found at www.telosalliance.com/Dealers.
Press contact: Krissy.Rushing@TelosAlliance.com.
For high-resolution images, visit the Telos Photobucket page.
Follow us on Facebook, Twitter, or visit TelosAlliance.com.
---
About The Telos Alliance
For three decades, the brands of the Telos Alliance have revolutionized radio and television by pioneering disruptive, cutting-edge audio technology with the goal of helping global networks and local stations produce better programming, improve audience engagement, and bolster ratings. The Telos Alliance is made up of six brands—Telos Systems, Omnia® Audio, Axia® Audio, Linear Acoustic®, 25-Seven® Systems, and Minnetonka™ Audio—that raise the bar for quality and innovation in the radio and television industries. The Telos Alliance invented Audio-over-IP for broadcast and contributed time and resources to the effort that led to the AES67 standard. Together, the Telos Alliance represents some of the brightest minds in radio and television broadcast audio, with dozens of awards and a growing patent and IP portfolio to back up the claim.
---