Family of software, hardware, PC encoders integrate with popular streaming provider
9 April 2015, Cleveland Ohio, USA
The Telos Alliance is pleased to announce its partnership with Wowza® Media Systems (www.wowza.com), one of the industry's leading streaming media service providers with clients in more than 150 countries.
Telos Alliance is now a part of the Works With Wowza™ partner program, ensuring that Z/IPStream products are tested, integrated and supported with Wowza Streaming Engine™ software. This further simplifies streaming for joint Wowza and Telos Alliance customers.
Z/IPStream streaming audio processor / encoders from The Telos Alliance give broadcasters powerful, easy-to-use tools that supply listeners with clean, clear and artifact-free audio. The integration with Wowza Streaming Engine provides an easy deployment path for broadcasters who want to set up an audio-only streaming workflow.
Z/IPStream is the third generation of professional streaming-audio products that originated when Telos launched the world's first MPEG streaming hardware, the AudioActive Encoder, in 1996. In 2002, we leveraged our experience, introducing Omnia A/X, the first native PC software to combine audio processing, stream encoding, and integration with third-party streaming servers. Now, the Z/IPStream family includes software, hardware and plug-in PC cards — allowing users to choose the solution that best suits their needs and operational philosophy. All Z/IPStream products feature audio processing algorithms from Omnia Audio and genuine Fraunhofer IIS codecs for superior streaming audio.
Z/IPStream X/2, 9/X2, R/1 and S4 products provide easy integration with Wowza Streaming Engine software. The Z/IPStream family of products (TelosAlliance.com/zipstream) includes:
Cloud-ready Z/IPStream X/2 and Z/IPStream 9/X2 software for Windows® PCs
Z/IPStream R/1, a professional, rack-mounted hardware processor + encoder
Z/IPStream.S4 multi-channel PCIExpress cards for computer-based streaming + encoding
Z/IPStream F/XE processor + encoder for file-based streaming content
Visitors to NAB 2015 in Las Vegas can see the entire Z/IPStream family of streaming hardware and software at the Telos Alliance display in the Central Hall, booth #C549. For information about The Telos Alliance, visit www.TelosAlliance.com; for media information, contact Angi Roberson at Angi.Roberson@TelosAlliance.com, or call +1 216-241-7225.
# # #
Z/IPStream R/1 Hardware Streaming Encoder
Z/IPStream X/2 and Z/IPStream 9X/2 Streaming Software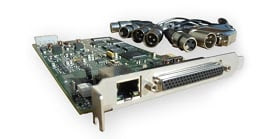 Z/IPStream.S4 Streaming Encoder for PC
Product photos may be downloaded from
---
About The Telos Alliance
The Telos Alliance (TelosAlliance.com) is a global leader in the research, development, and manufacturing of IP?Audio, telephony, and high?performance audio processing equipment for broadcasters. Telos, Omnia, 25-Seven, Axia, and Linear Acoustic are Telos Alliance brands. The Telos Alliance is headquartered in Cleveland, Ohio USA, with additional US offices, plus sales, research and manufacturing offices around the world.