Live demonstration of the new Axia Quasar SR AoIP Mixing Console that delivers all the power and ergonomic design of the flagship Quasar console in a streamlined surface design.
Cleveland, Ohio (October 13, 2021) –Telos Alliance®—trusted global leader in broadcast audio for more than three decades—is set to host a new webinar, "Introducing the New Axia Quasar SR AoIP Mixing Console," on October 20, 2021, at 1 PM EST.
Introducing the Axia Quasar SR AoIP Mixing Console. Quasar SR is the direct replacement for Axia's best-selling Fusion console. If you like Fusion, you'll love Quasar SR—which is comparable to the Fusion console in both price and feature set but also delivers all the power, ergonomics, industrial design, and star appeal of our flagship Quasar XR console.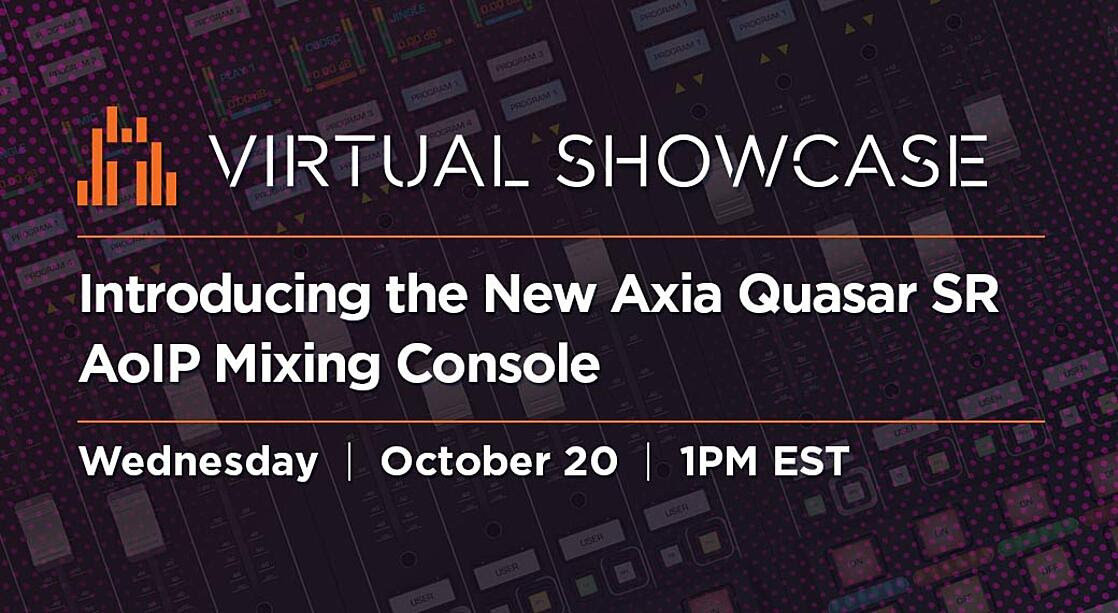 Join Cam Eicher, Senior Vice President of Worldwide sales, and Kirk Harnack, Senior Solutions Consultant as they unveil Quasar SR's sophisticated AoIP technology from Telos Alliance—the inventor of AoIP for broadcast—designed for steadfast reliability with no single point of failure. And take an inside look with a special interview featuring Quasar's Senior Project Manager, Luca La Rosa. Quasar is part of the vast Livewire+™ AES67 ecosystem, making communication with other devices on the network easy by allowing detection, sharing, and control of audio resources across multiple studios connected to the network. With Quasar, AoIP's promises of built-in redundancy, cost-efficiency, ease of use and setup, and system scalability are fully realized.
Don't miss the opportunity to experience live Q&A and demonstrations showcasing Quasar SR's limitless potential.
Those interested in attending the webinar can sign up here.
For those who are unable to attend, Telos Alliance recommends signing up anyway and a recording of the webinar will be sent via email.
Press Contact:
Justin Gelske
Marketing Coordinator, Telos Alliance
+1 216-619-4196
justin.gelske@telosalliance.com
About Telos Alliance
Telos Alliance is a global leader in audio, trusted by the biggest names in the media landscape. Telos Alliance's focus is to deliver innovative, intuitive solutions that inspire the creation of the most exciting and engaging audio experiences imaginable. No audio challenge is too big; no technology is beyond reach; no solution, large or small, is unobtainable. The Telos Alliance portfolio of brands includes Axia® Audio, Linear Acoustic®, Minnetonka Audio®, Omnia® Audio, Telos Alliance®, Telos Infinity®, Telos® Systems, 25-Seven® Systems, and Jünger Audio. Headquartered in Cleveland, Ohio, USA, with additional offices and dealers around the world, the Telos Alliance supports the diverse needs of audio professionals around the world with best-in-class support 24/7.